Acoustic Emission
ACOUSTIC EMISSION
Acoustic Emission Testing (AET) is a Non-Destructive Testing (NDT) method that is used to analyse emitted sound waves caused by defects or discontinuities. These acoustic waves are induced by small deformations, corrosion or cracking, which occur prior to structure failure. It is therefore possible, with AET, to locate structural defects and to monitor the propagation and development of discontinuities.
APPLICATIONS
Storage tank Bottom floor inspection / Full Integrity Testing
No need to evacuate the load from the storage tank
Pressure vessels, Gas Bottles Integrity Testing without evacuating load
TRACK RECORD
Storage Tank Floor Bottom Inspection
FRP vessels
PERSONNEL QUALIFICATIONS
ISO 9712 ( PCN, RTC, CSWIP), ASNT Level 2/3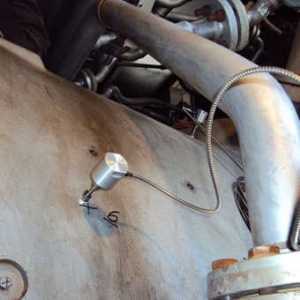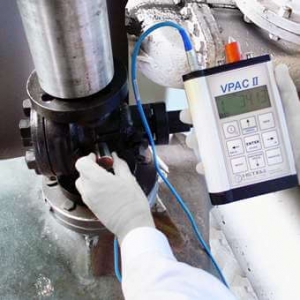 LRUT
LONG RANGE UT (GUIDED WAVE ULTRASONIC TESTING)
The Guided Wave technology uses a low frequency guided ultrasound waves traveling along the pipe, providing 100% coverage of the pipe length. In normal application, tens of meters of piping may be inspected from a single location. Effected areas are precisely located in terms of distance from the transducer ring and highlighted for further local examination by visual or other conventional NDT methods. This non-destructive screening technique can be used without extensive scaffolding and minimizes the requirement of removing insulation along the piping.
APPLICATIONS
Corrosion, Pitting in Insulated Pipelines
Corrosion, Pitting Buried Underground Pipeline
Process Pipelines Corrosion Findings
No need to remove insulations
No need to excavate full length of pipes
PERSONNEL QUALIFICATIONS
ISO 9712 ( PCN, RTC, CSWIP), ASNT Level 2/3
TRACK RECORDS:
VOPAK Terminal
SembCorp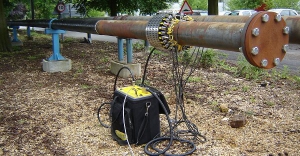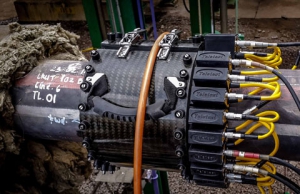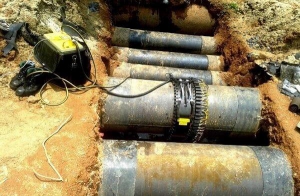 Real Time RT
REAL TIME RADIOGRAPHY (OPEN VISION)
OpenVisionTM is a light weight live video X-ray imaging system specifically designed for hand-held inspection. It includes a highly sensitive radiographic imager and battery-operated 70kV x-ray tube designed for portable field operation. The proprietary intensified video imaging system captures images and displays them on a hand held LCD viewer, head mounted display, or portable recorder with LCD display in real-time.
This portable system is commonly used for Corrosion Under Insulation inspection. Corrosion Under Insulation (CUI) inspection is a term used to address the inspection of areas that exist between the insulation material and the exterior wall of the pipe. Stripping down the insulation and searching for problem spots is a costly and time consuming process. The OpenVisionTM OVCF-NDT X-ray system allows you to inspect lengths of pipe work, bends and joints in a matter of minutes, pinpointing any defects without removing the insulation.
APPLICATIONS
Corrosion Under Insulation on Piping
Geveral Visual Inspection Under Insulated Pipes
TRACK RECORDS
Shell Eastern Petroleum, Shell Bukom, Singapore
Exxon Mobil
EMAS Offshore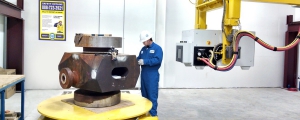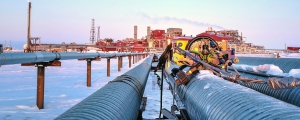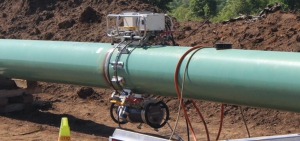 CUI
CORROSION UNDER INSULATION (CUI)
Corrosion under insulation (CUI) is the corrosion of piping and vessels that occurs beneath insulation as a result of water penetration. The water can come from rain water, leakage, deluge system water, wash water, or sweating from temperature cycling or low temperature operation such as refrigeration units.
Unfortunately, because the corrosion is hidden under the insulation, CUI tends to remain undetected until the insulation is removed for inspection or when leaks occur. CUI is a common problem across many industries, including refining, petrochemical, power, industrial, onshore and offshore industries.
INSPECTION METHODS
Long Range UT
Computed Radiography (CRT)
Digital Radiography (DRT)
Profile Radiography
Real Time Radiography (Open Vision)
PERSONNEL QUALIFICATIONS
ISO 9712 ( PCN, RTC, CSWIP), ASNT Level 2/3
TRACK RECORD
Exxom Mobil (Open Vision)
Shell Eastern Petroleum, Bukom Terminal (Open Vision, Profile Radiography
MISC Malaysia (Computed Radiography)
Our Credentials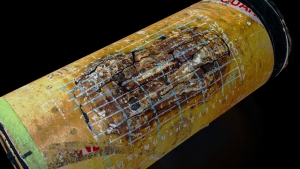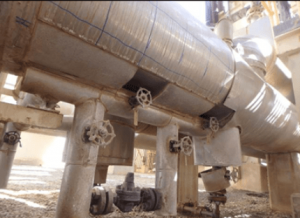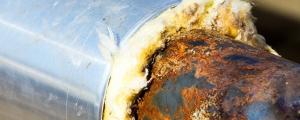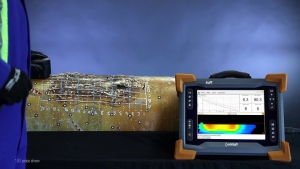 Profile RT
PROFILE RADIOGRAPHY
Profile Radiography, technically called Tangential radiography is a radiographic technique used for the determination of remaining pipe wall thickness. Wall thickness measurement in processing pipe is necessary to determine loss of material due corrosion under insulation and internal erosion. Thickness measurement would assist the engineer in making decisions with regards to the safety of plant, environment and personnel and also for insurance purposes.
INSPECTION METHODS
Conventional Gamma Radiography
Conventional X-Radiography
Digital Radiography (DRT)
Computed Radiography (CRT)
PERSONNEL QUALIFICATIONS
ISO 9712 ( PCN, RTC, CSWIP), ASNT Level 2/3
TRACK RECORD
Shell Eastern Petroleum, Bukom Terminal (Open Vision, Profile Radiography
MISC Malaysia (Computed Radiography)
Our Credentials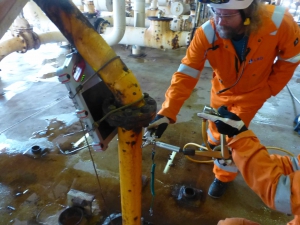 High Temp PAUT
HIGH TEMPERATURE PHASED ARRAY ULTRASONIC TESTING (PAUT)
Designed to address the requirements of elevated temperature corrosion and weld inspections, these solution packages are targeted at the reduction or elimination of shutdown times in production environments. This series is designed to operate up to 200°C. The TempMaster Gold solution package has been designed to include all the required equipment to ensure safe and reliable operation within this temperature range. The Gold Series high temperature material has a safety margin to accommodate some temperature fluctuation.
FEATURES
Phased array inspections at temperature up to 200°C
No shut down required while performing weld inspections and corrosion mapping
Automated scanning limits direct contact with parts at elevated temperatures
Encoded automated and manual scanning for consistency and repeatability
Multiple wedge sizes available for various wall thicknesses
Cooling systems prevent damage to the scanner, wedge and probe
PERSONNEL QUALIFICATIONS
ISO 9712 ( PCN, RTC, CSWIP), ASNT Level 2/3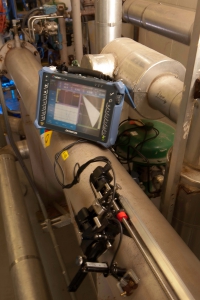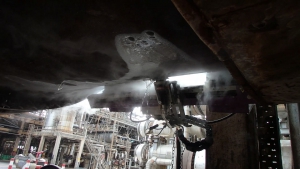 High Temp UTG
HIGH TEMPERATURE UT THICKNESS GAUGING
Although most ultrasonic flaw detection and thickness gaging is performed at normal environmental temperatures, there are many situations where it is necessary to test a material that is hot. This most commonly happens in process industries, where hot metal pipes or tanks must be tested without shutting them down for cooling, but also includes manufacturing situations involving hot materials, such as extruded plastic pipe or thermally molded plastic immediately after fabrication, or testing of metal ingots or castings before they have fully cooled. This application note contains quick reference information regarding selection of high temperature transducers and couplants, and important factors regarding their use. It covers conventional ultrasonic testing of materials at temperatures up to approximately 500°C.
APPLICATIONS
Petro chemical and process industries – Pre Shutdown & Maintenance
PERSONNEL QUALIFICATIONS
ISO 9712 ( PCN, RTC, CSWIP), ASNT Level 2/3
Crawler UTM
CRAWLER UT GAUGING
Battery operated, encoded crawler with 5 MHz, dry coupled wheel probe. Supplied with a 50 metre umbilical cable for access to the top of the highest storage tanks methods. The Scorpion is a rugged remote access ultrasonic (UT) crawler designed for cost effective ultrasonic inspection on ferro-magnetic structures such as storage tanks, vessels and offshore installations without the need for costly scaffolding or rope access associated with UT thickness gauging.
High resolution B-scan image
Simple profile, or full amplitude display
Permanently stored data for recall to assist with RLA & RBI trend forecasting
No couplant or paint removal required
APPLICATIONS
Tank Thickness Gauging without Rope Access / Scaffolding
Pressure vessels and offshore installations Thickness Gauging
PERSONNEL QUALIFICATIONS
ISO 9712 ( PCN, RTC, CSWIP), ASNT Level 2/3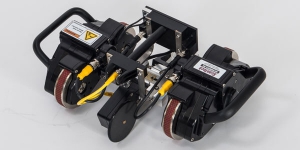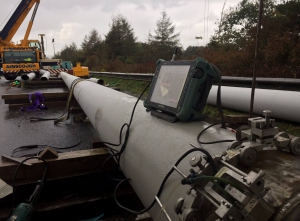 IR Thermography
INFRARED THERMOGRAPHY
IR Thermography is based on the concept that, the object which has absorbed heat or at some temperature value higher than the ambient or surrounding environment will emit infrared radiation (heat flux) at different wavelength. The IR thermography method uses a thermal image scanner or camera to record the heat flux which was emitted as infrared radiation. The thermal image describes the distribution of the surface temperature that will detect the defects in the subsurface of the material tested. Because of different thermal coefficients between the sample surface and the ambient, the heat will flow in different ways (thermal wavelength) and also at different rates and thus results in a different temperature distribution on the surface of the sample with respect to the defects in the tested material.
IR Thermography has two different approaches namely passive and active, depending on how thermal load is applied to the object to be tested.
In passive approach, test samples are naturally at a higher temperature than the ambient whereas in active approach, an external stimulus is necessary to apply thermal contrasts to the test material. In active thermography, test materials are to be heated above the ambient temperature. It can be applied in two methods, single sided and double-sided. In single-sided, the sample will be heated first and afterwards heat release will be recorded by the thermal image scanner, while in the case of double sided, thermal image scanner and heat source are placed on opposite sides with respect to the sample and the scanner is switched on simultaneously with the heat source.
In pulsed thermography method, the stimulation time will be less for higher thermal conductivity material and more for low thermal conductivity material. In this method initially the test material is heated and the thermal images are recorded during cooling cycle at regular intervals of time.
Applications:
Electrical Systems (faulty electrical or overloaded circuits)
Mechanical Equipment (abnormal warm motors and bearing failures)
Fluid Systems (line blockages, pipe or fluid temperatures, tank levels)
Building Applications (insulation defects, air infiltration, moisture defects)
Low-Slope Roofs (identify wet roof insulation)